Straight to the Piton de la Fournaise
Publié le 11 November 2018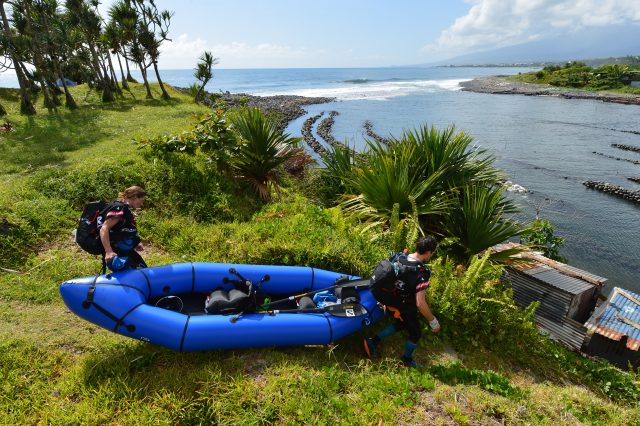 Today the front teams will meet the island star. The third section of trek (37 km and 3 150 meters of elevation gain) will lead the racers at the top of the Piton de la Fournaise (2632 meters). This section deemed difficult will take the teams to very wild paths in an unreal scenery of great beauty: the Plaine des Sables, a vast lunar expanse of golden brown and reddish reflections delimited by two ramparts named Rempart des Sables and Rempart du pas de Bellecombe. New Zealanders' Avaya (1) began their ascent at 8:07, followed by the French 400TEAM Naturex at 9:29 am.
Behind, 8 teams led by Haglöfs Silva (6), Estonian Ace Salomon (4) and Lozère Team2raid (21), are trying to follow the pace imposed by the leading duo. They are currently progressing on the second trekking section, between TA3 and TA4, on the paths crossing the lava flows formed by the successive Piton de la Fournaise eruptions, including the spectacular 2007 lava flow.
At the rear of the race, all teams completed the first section of trek and embarked on their packrafts. They are sailing down the three rivers of the second section. Except from the team Louves des 2 Alpes (63) who decided to take the cut*. The 100% female team is "cut" on a shorter itinerary: they will not complete the B section of packraft, between AT1 and AT2. The four girls will go directly to the mountain bike section (41 km) through the sugar cane fields and the 1977 lava flow.
* Cuts are time zones which allow to regulate the race and minimize the gaps between the front and back teams. Thus, if a team reaches some specific transition areas (AT) or check points (CP) after these cuts, it will be steered towards another CP/AT.