The unstoppable world champions
Publié le 11 November 2018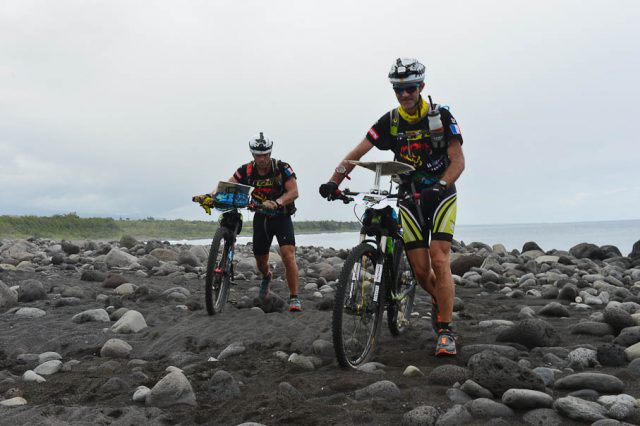 In this fourth day of race, the teams were all gathered in the eastern part of the Island: the front teams have begun the ascent of the Piton de la Fournaise whereas their pursuers were still in the packraft section on the three rivers between Saint-Benoit and Saint-Philippe with a stop via Anse des cascades.
The Progression speeds quite stick to the forecasts, even if Avaya (1) team, several time world champion, seems to be on a roll. In one day, they went down the entire east coast by mountain bike or by foot, they went along the most recent crater hole formed by the Piton de la Fournaise (called enclos Fouqué) and they rode along the Rivière des remparts passing through the Mapou lava tunnel cave. In total 120 km with one single goal in mind: reach the city of Saint-Pierre where the sea kayak section starts, because on this 37km kayak section to Saint-Leu, navigation is only allowed from 5:00am to 7:00pm. Behind them, podium seems to take shape with the French 400Team nature (3) and the Swedish Haglöfs Silva (6), followed by 9 teams including Estonian Ace Adventure (4) and the Chinese The North Face Adventure Team (34), who are doing a beautiful race.
A dozen of mid-ranking teams had not started yet the ascent of the Piton at the end of the day. While the back teams were ready to spend a night of rest on the East rivers which is closed to navigation at night. On today's withdrawal list, one may find: the Swedish Armed Forces Adventure team (5), Oskar Svärd fell off his mountain bikes and broke his rib; My Tower Aquitaine Safety team (37) because of a leg pain for Olivier Mariande (his teammates are continuing the race); and the Racing Denmark Adventures team (51) for overall tiredness of all teammates.