Bad weather conditions
Publié le 14 November 2018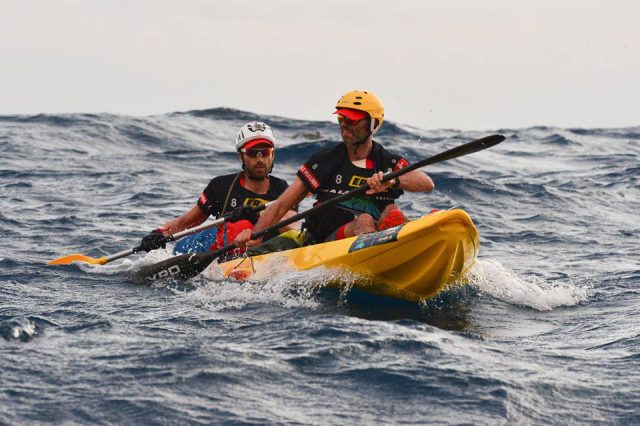 No doubt, it was a tough day for the teams still racing today due to very rough seas and heavy rains in the volcano region as well as in the south-east of the island. We often witness a strange phenomenon during adventure races : a gradual deterioration in weather conditions, impacting in a somewhat unfair way the back teams. To the length of the race are added cold, rain, fog…
This strange law has once again been confirmed at this world championship: the back and middle teams of the ranking suffered today! And the organization was on tenterhooks to find solutions to ensure the safety and the rest of the race. "The weather won't necessarily get better tomorrow, so we decided to take early action'' explained Pascal Bahuaud, the race director.
First decision: the sea kayak portion between Saint-Pierre (AT7) and L'Etang Salé (CP17) was removed. The teams are now starting the kayak section from L'Etang Salé towards Saint-Leu (AT8). The teams affeted by this decision are the following ones : Arverne Outdoor Inoprod (33), TUC Tri Absolu Vaincre la Muco (38), Adeorun (26), Vertical Dissidents (43), Outdoorvalley DSN74 (49), XTT Raid 63 Le Mont Dore (41), Uruguay Natural US (16), Team Belgium (48), Stomlonauts (45), Creps Auvergne-Rhône-Alpes Ternua (61), Los Bomberos 81 (47), Olympus Red Ants (59), Intersport DSN-74 (42), Run Zourit (5).
But beware, not all these teams are in the same boat : some are still racing on the full course; others have been caught up by the time zones (cut); and others are out of the ranking because they are progressing with three teammates only.